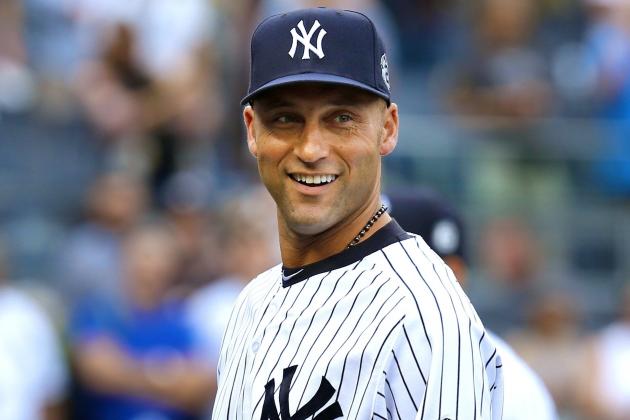 Courtesy of bleacherreport.com
Professional athletes have joined the social media arena in droves to connect with their fans and even get better endorsement deals (Kerpen, 2011, p. 105). As this class has shown, "social networking is an increasingly important way for people to connect and communicate" (Scott, 2013, p. 266). For example, Nick Swisher, a Major League Baseball player, has 1.3 million Twitter followers. If you take a look at Swisher's Twitter (
https://twitter.com/NickSwisher
), he has now amassed 1.74 million followers and "not only shares photos and videos but also insights and thoughts directly from the dugout" (Kerpen, 2011, p. 105). It is clear that social media is an important outlet for athletes to let their personalities out.
An enigma to the social networking trend is Derek Jeter, who was the shortstop for the New York Yankees. Jeter is not an avid social media user. While he has a Facebook page (
https://www.facebook.com/derekjeter
), he does not advertise his personal, private information. Instead, he makes relevant information available, with his updates revolving around his foundation, Turn 2 (
http://derekjeter.mlb.com/players/jeter_derek/index.jsp
), and his website, The Player's Tribune (
http://www.theplayerstribune.com/
) (Scott, 2013, p. 250). When asked by a fan about staying private throughout his career, he mentions that he started a Twitter account, but really pointed fans to a prank video (Extra Mustard, 2015, para 5).
Meanwhile, throughout his career and even now in retirement, Jeter still has a strong fan following and had many endorsement deals; "Jeter has built a fan base that's interested in anything that he does—he can also bring people in through the strength of his brand" (Rogers, 2014, para 10). Does this show that some people do not need to create a personal brand on social media?
Ironically, after retirement, he started a social media site, The Player's Tribune, where athletes could write directly to fans about whatever they want, however they want, rather than letting the media serve as a middleman. This site could be a transformative, new way for athletes to speak to their fans. Do you think a site like this will do well? Will media companies try to stop a site like this from being successful?
Extra Mustard (2015 Aug 27). Derek Jeter says he is on Twitter, rickrolls fans. Sports Illustrated. Retrieved from
http://www.si.com/extra-mustard/2015/08/27/derek-jeter-twitter-rickroll
Kerpen, D. (2011). Likeable social media: How to delight your customers, create an irresistible brand, and be generally amazing on Facebook (& other social networks). New York, NY: McGraw-Hill.
Rogers, J. (2014 Oct 4). Has Derek Jeter hit a social media home run? Fox News. Retrieved from
http://www.foxnews.com/tech/2014/10/04/has-derek-jeter-hit-social-media-home-run/
Scott, D.M. (2013). The new rules of marketing & PR. Hoboken, NJ: Wiley.